Congrats, Justin : Youngest Inductee into the Memphis Hall of Fame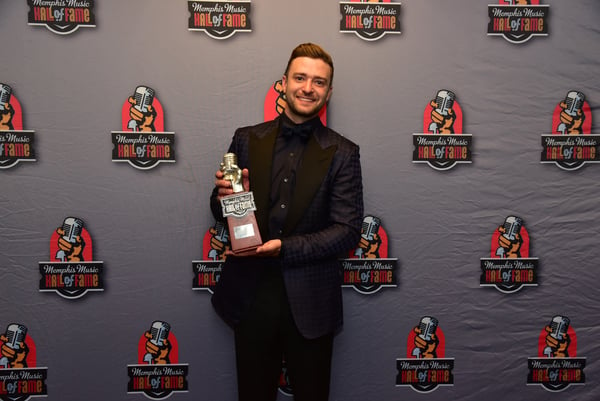 BIG congrats to JT who became the youngest inductee of the Memphis Music Hall of Fame on Saturday night!
This annual event at the Cannon Center had a star-studded mix in attendance, from rockstars to NBA greats and a comedian - but the true stars of the show were the inductees. Six of Memphis's most legendary musicians— Scotty Moore, Sam & Dave, Al Jackson Jr., Charlie Rich, Memphis Slim and Alberta Hunter — were also celebrated alongside JT for the event. http://memphismusichalloffame.com/
Timberlake's acceptance was introduced by wise words from Grizzlies point guard Mike Conley, Three 6 Mafia founder DJ Paul and Timberlake's close friend and host of "The Tonight Show," Jimmy Fallon.
"Who better to induct him than me... Mrs. Justin Timberlake," cracked Fallon. "Jessica, I'm sorry; the heart wants what it wants."

"What I love about Justin is he's never forgotten where he comes from, " Fallon continued. "He loves Memphis. I mean, his wife's last name is Biel. I talked him out of naming his son Barbecue... He's passionate about his hometown."
Justin then accepted his award to a standing ovation. "I never prepared a speech for anything," he said, "but this is the coolest thing that's ever happened to me." "This (city) is one of a kind and I know 'cause I've been around... but London ain't got no Gus' Fried Chicken. Paris may have rendezvous, but they don't have the Rendezvous. Egypt has the pyramids, but they don't have a Bass Pro Pyramid."

Photo Credit: Keith Richards
After shouting out the Grizzlies and celebrating the University of Memphis' football win over Ole Miss that day (he led the entire audience in a rendition of the school's fight song), Timberlake noted that "Memphis is the global capital of soul. And that soul is not just in the music, it's in the people." After thanking his wife and family, Timberlake concluded his speech by saying he owed a deep debt to the city of Memphis. "I only hope I can continue to return the favor for as long as I live and breathe," he said.
Later in the evening, Sam Moore (half of the duo known as "Double Dynamite") brought JT out of the crowd and onto the stage to sing "Soul Man". Justin then beatboxed while Moore scatted and what was originally a performance turned into a full-on celebration. Joined by Stax greats Cropper and William Bell, the pair closed the show with a rendition of "(Sittin' On) The Dock of the Bay." Moore and JT then traded jokes and vocals on the Otis Redding classic, celebrating the love for music that brought them both together that night.
Photos by Steve Roberts