Meet June's #TNKidOfTheMonth : Nelly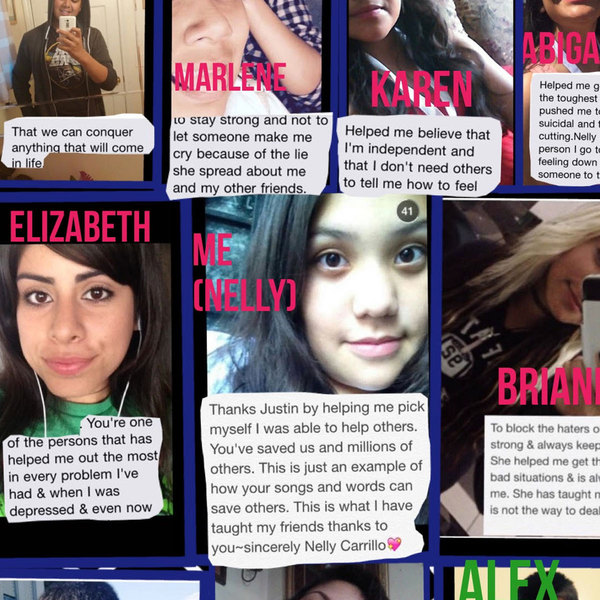 Meet Nelly from Compton, California, our June 2015 #TNKidOfTheMonth!
In addition to being an all-in 100% TN Kid, Nelly is a talented trumpet player and artist. She loves anime and goes out of her way to be good to her friends - SO much so that she was kind enough to compile her and her friends' photos and messages to Justin for us to see! (see above - full version below!)
Answers from her application below. CONGRATULATIONS, NELLY!
1. Why should you be the TN Kid of the Month?
Although I haven't been a TN Kid for a long time, it's been a great experience for me because I've learned to help others from my heart! The fans aren't just fans. They are family - a family that supports each other through thick and thin.
Seeing other TN Kids' art and music inspires me to keep drawing and practicing trumpet. I'm so proud to say that I'm a TN Kid.
2. What does being a TN Kid mean to you?
It means so much to me! When I'm older, I will look back on this huge family that taught me how be a better person and help others. Through this family I have seen first hand the way music can heal those around you (I know from my own experience!). Justin and this family have gotten me through so much and will continue to. There are no words to express how much being a TN Kid means to me!
3. Have you met any other TN Kids along the way? Got any stories to share?
I haven't been in this fandom for so long, but I've met others online that have welcomed me. Furthermore, I've introduced my friends to Justin's music and it's helped us through tough times in our lives. I have some very close TN Kid friends who continue to inspire me through their experiences.
I've gotten a lot better at playing trumpet. I'm trying to play Justin's songs! I've also been working on sketches of Justin.
Learning these skills has been worth the struggle. The feedback and support from other TN Kids has helped me to work with confidence.
4) If you had one thing to say to Justin what would it be?
Although there are a million things I could say to Justin, I would choose the following:
Justin you've done so much for me. You've cheered up my friends when they were feeling blue. When I'm in a whirlpool of confusion, your music lifts my spirits up! Because of that, I am able to help others. You have shaped me into the person I am today and will continue to do so! Thank you from the bottom of my heart, you're a lifesaver who's helped millions of people (including my friends and I) through tough times!
5) How has Justin's music helped you?
When I'm feeling anxious or panicky at school, I put on my headphones and let Justin calm me down. When a guy let me down in front of my student body, I listened to Justin's music and knew the guy wasn't worth crying for and didn't deserve my attention! Most importantly: when a good friend passed away, Justin's music gave me comfort and helped me pick up the pieces (June 6th is his anniversary). Justin's music brings me relief when things get too intense and has helped me bring that relief to my friends. I am so grateful.
6) Favorite Justin trait?
I love how inspirational Justin can be! His acceptance speech at the iHeartRadio Awards taught me that being different and not fitting in is a good thing. It gives you new chances!