Meet April's #TNKidOfTheMonth : Amber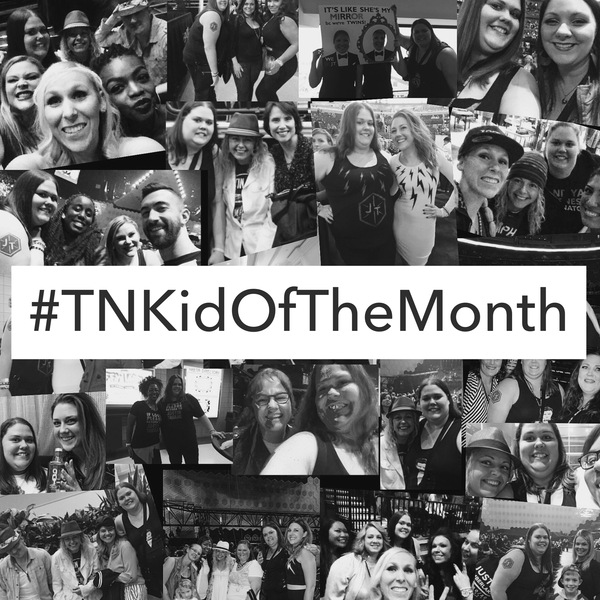 Photo: Amber with TN Kids and band members from The 20/20 Experience World Tour
TN Kids! Once again, your submissions for #TNKidOfTheMonth blew us away. You continue to impress us with your stories, creativity, and dedication to the community - which makes it incredibly hard to choose just ONE of you.
This month, we selected...
(drum roll please)....
Amber, the unofficial TN Kid cheerleader. Amber is very active in the TN Kid community. She strives to make it a welcoming, positive space. She supports all TN Kids in their endeavors - whether that be band members, dancers, singers, or other fans. She's even been called out by her local news station as a Justin Timberlake fan - no joke! See here.
Good luck TN Kids for next month's submissions, details here.
-TeamJT
Why should you be TN Kid of the Month?
First off, I have the official JT2020Tour tattoo.....lol! I think I should be TN Kid Of The Month because I am so dedicated to this fandom. I post JT content daily on Twitter, Instagram, and the official website to show my support. I love having a whole family of people to share my love of Justin and The TN Kids with!
How long have you been part of the family?
Since the beginning when Justin was in the Mickey Mouse Club!
Have you met any other TN Kids along the way? Any stories to share?
I have met so many members of TN Kid Nation - starting at my second show in Detroit all the way up to the last two shows in Vegas! They are amazing people. So many stories come to mind about meeting each one of them. A few jump out....
Detroit show: I met Sean Erick at this show for the first time. I also met a group of fans at the show. We stayed up till 4:30am swapping stories, talking about the show and what Justin means to us.
Chicago show: Leon Silva recognized me by my tattoo!
Nashville and Atlanta shows: Brian Frasier Moore gave me his drumsticks!
Last 2 shows in Vegas! My friends (fellow TN Kids) Kristi, Kristie, Diana, Erica, and I had a "Mirrors" sign-along in the main entrance of our hotel. We sang at the top of our lungs while everyone watched. We also met Elliot Ives during the last show! He recognized me by my tattoo and called it "bad ass."
Number one take-away or favorite moment from The 20/20 Experience World Tour?
The family I now have! We're best friends for life, and I have JT and The TN Kids to thank!!
If you could tell JT one thing what would it be?
I would tell him thank you for all the hard work he puts in for his fans. I just want to tell him that it is very appreciated, and yes, you still Run This Bitch!
What is a specific moment you remember JT's music affecting you and why?
I remember driving down the road being very upset over a fight I had with a close friend. I turned on my radio and "Let's Take A Ride" came on. Just listening to the lyrics made me calm down. Still to this day, it is my favorite song. If I'm feeling down, I listen to it. It makes me my happy self again!
What's your favorite JT song, dance, film. trait and why?
Favorite song: "Let's Take A Ride" = all time favorite but "Pusher Love Girl" and "Amnesia" are right up there too
Favorite dance: Choreography to "My Love" from The 20/20 Experience World Tour
Favorite film: Friends With Benefits
Favorite trait: How down to earth he is. JT hasn't let all the fame consume him. He's still the same Southern boy he always was.