Congratulations JT for the 2015 iHeartRadio Innovator Award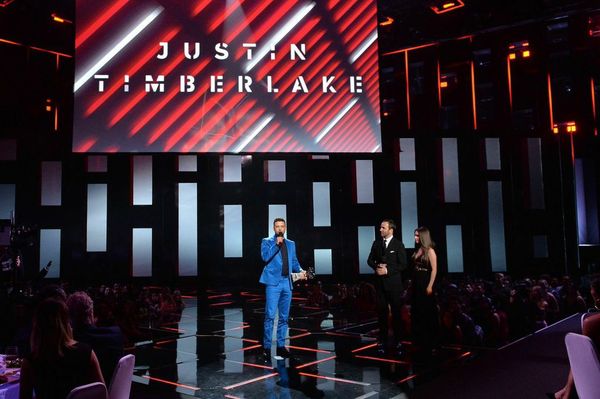 Photo: iHeart
Congratulations, Justin! Last night, Justin was honored with the most prestigious award from the iHeartRadio Music Awards: The 2015 iHeartRadio Innovator Award!
The experience was one for the history books - from the star-studded tribute video to Justin's moving acceptance speech.
The iHeartRadio Music Awards broadcasted live and aired on NBC Sunday, March 29 from the historic Shrine Auditorium in Los Angeles.
As millions watched, the one and only Tom Ford presented the award to our #PresidentOfPop. Tom Ford articulated it perfectly, "There are but a few entertainers who have the talent to truly endure. And within that very small group, only the most gifted and innovative have the willingness to take risks, the drive to try constantly try new things, and the ability to transcend all artistic boundaries. That defines Justin Timberlake."
A video tribute to JT played before he was presented with the award in which Pharrell Williams, Timbaland, Neil Barrett, Trace Ayala, Jimmy Fallon, Andy Samberg, Lorne Michaels, Taylor Swift, Rick Rubin, Marty Kudleka, and Johnny Wright celebrated his work and dedication to his craft.
Photo: iHeart
JT accepted the award with a moving speech quoting Steve Jobs stating, "Stay foolish. Stay hungry. Dream. Work hard."
Watch his full acceptance speech below.
What a night. What an honor. What an innovator. Way to make history!
Congrats again, JT!
-TeamJT