#JT2020TourMAP Winners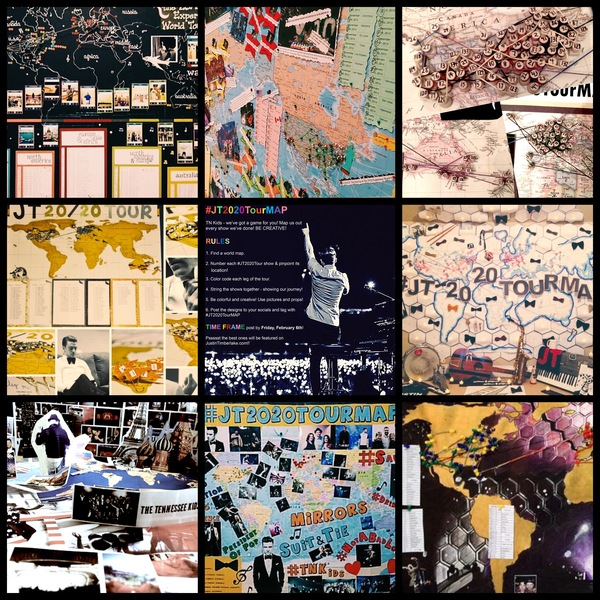 TN Kids - you blew us away with your #JT2020TourMaps!
On January 22nd, we sent out a call for #JT2020TourMaps asking you map us out every show from The 20/20 Experience World Tour. (Shout out to TN Kid trumpet player Sean Erick who came up with this idea!)
The turnout was surreal! Each map is so unique and creative. We were so impressed at the time the TN Kids Family put in to commemorate the experience.
We have collected our top 10 favorites, but it was so hard to choose that we decided to include some additional entries as well!
A BIG thank you to everyone who particpated!
- Team JT
TOP TEN #JT2020TOURMAPS
She rebuilt the stage!
2. @sand.xo
3. @scoemre11
He painted the stage backdrop and map!
4. @skwsalon
5. @LoveKarenx
It's 3D!!
7. @SILVIA_ivp
8. @jenntothea
9. @mbwhited
10. @Cheuy3060
And now, in no particular order, here are some more of our favorite entries. You all did a great job!
MORE #JT2020TOUR ENTRIES

@clvanilla
@msmarimendes
@jtpresidentofpop
@tugtii
@hydroponic_candy_jelly_bean
@shawnacotant
@missjackieee
@KatharinaJuliaP
@nataliaskg
@annalenaduu
@menshe_slov
@j1lynn98
@callykrazy
@IzzySkrillex1D
@girliecue99
@jlynnsch88