SOCIAL REPORT: #JT2020Tour Toronto, ON - Duluth, GA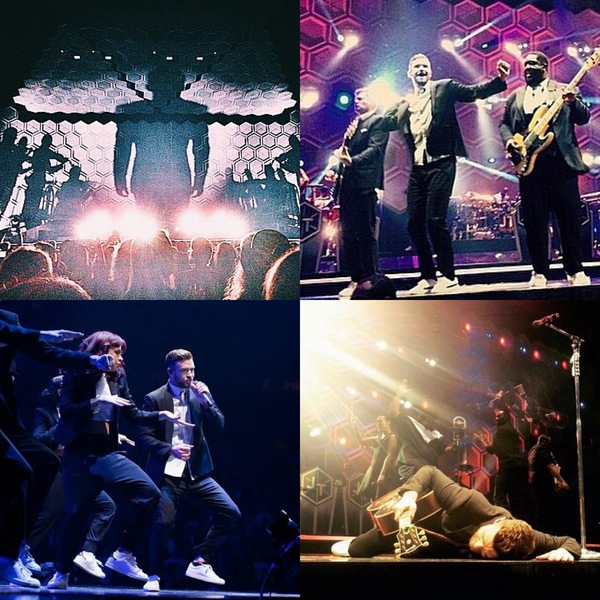 Photo: @caroline_clemens, @jazzpowe, Rachael Yarbrough, @we_are_tnkids
That. Went. Fast.
From Toronto, ON to Duluth, GA, the past six The 20/20 Experience World Tour shows have been a crazy, fun whirlwind. We've had surprise appearances from Jay Z and Garth Brooks, a proposal, and a ten-year-old with gift giving skills who almost made Justin cry (check it all out below!)
TN Kids - thank you for bringing your contagious energy and for once again, snapping such creative shots! It's hard to believe that there are only two shows left, but you still have a chance to be in the final crowds for #JT2020Tour at the MGM Grand Las Vegas. Don't miss it.
January 1st tix available HERE
January 2nd tix available HERE
We'll see you on stage in the new year - 2015 baby!
- TeamJT
12/10 - Toronto, ON at the Air Canada Center
"Canada, we love you!" - Justin
A man in the front row proposed to his girlfriend (she said yes!) About midway through the show, Justin checked in on the two. He spotted the couple while the elevated and moving stage during "Let The Groove Get" - "You've been engaged for a half-hour - how's it going?"
Photo: @iamkyleewinn
Photo: @maleessa
Photo: @enigmalast
The proposal! Start it at 2:10.
Video: Chantal Leblanc-Everett
Photo: @xlren
12/13 - Uncasville, CT at the Mohegan Sun
The crowd at the Mohegan Sun brought it!
Photo: @sandxo
Photo: @tanya_renee112
Photo: @spunky1113
Photo: @alexxxaarose
Photo: @sacha17
Photo: @sirmilton84
12/14 - Brooklyn, NY at the Barclays Center
Barclays Center was sold out and Jay Z came to perform "Holy Grail." Enough said.
For more photos from the Brooklyn #JT2020Tour show, see full gallery HERE.
Photo: @Nora74100 Twitter
Photo: @jazzpowe
Photo: @catforbus
Photo: @elianaranjo
Photo: Faith-Ann Young Photography
Video: Kelly Nemeth
Photo: Stephen Lovekin / Getty Images
Photo: @samlefaye
12/17 - Philadelphia, PA at the Wells Fargo Center
This show was nuts! "That's how we feelin' it in Philly tonight?" said Justin. The fans were ready to party.
Photo: @bitchassness427
Photo: @jessleighica
Photo: @lindsnetta
Photo: @getnsync
12/19 - Nashville, TN at the Bridgestone Arena
The home state concert! Garth Brooks came to perform "Friends in Low Places" and after performing with his idol, Justin dropped to the floor. It was one for the books. For more photos from the Nashville #JT2020Tour show, see full gallery HERE.
Photo: @kayla0329
Photo: @justintimberking
Video: @garthbrooks
Photo: @alita_marie24
Photo: @we_are_tnkids
Photo: Rachael Yarbrough
Photo: @jt_and_tnkids_brazil
12/20 - Duluth, GA at the Gwinnett Center
It was the very last show of 2014. "It's our last show if the year. We've been on the road for two years, but this is our last show for 2014."
The sold out Gwinnett Center delivered! Big time.
Photo: @woohoorusher365
Photo: @isapolancojt
Photo: @ambertnkidjt
Photo: @caroline_clemens
What a way to close the year!