JT Road Manager For The Day Winner!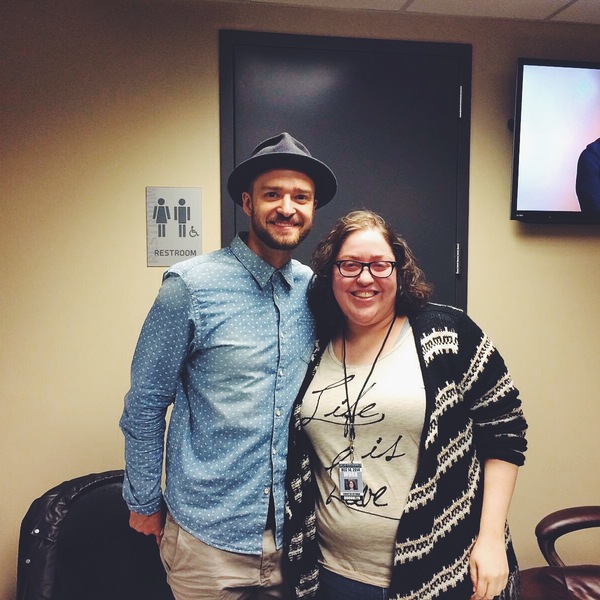 And we have a winner...
Samantha Boydman was the lucky winner of Prizeo's 20/20 Experience campaign - Win a Day on the Road with Justin Timberlake. Samantha was flown from her home in Las Vegas to New York to shadow Justin's road manager for his sold-out December 14th show at the Barclays Center in Brooklyn. Samantha and a guest were then treated to VIP tickets to the concert. She even got to meet Justin himself!
A big thank you to everyone who participated in the campaign and helped raise awareness and funds for the charity Musicians On Call. Musicians On Call brings live and recorded music to people in hospitals to brighten their day. See video:
You can hear more about Samantha's backstage experience below:
- TeamJT
Interview with Samantha Boydman - JT's Road Manager for the Day!
How long have your been a Tennessee Kid?
Forever. My first concert was *NSYNC, and I've stuck with JT ever since.
What's the first thing you did when you found out you won!?
Cried! Then told my mother and my boss. Needed time off of work!
Have you ever gone to a Justin Timberlake concert before? If so - how many and which ones?
Yup! I've been to 2 Future Sex / Love Sounds Tour shows, 1 Justied and Stripped Tour show, and 5 of the The 20/20 Experience World Tour shows SO FAR.
What's the first thing you did as road manager?
Meet so many people. I can't even remember their names!! There are a ton of people backstage. You really don't realize it when you see the shows.
What was your favorite task?
Telling the band and dancers that it was an hour to show time.
What surprised you most about backstage?
There are so many things going on at once!
Describe backstage in three words:
1. Maze
2. Busy
3. Yummy-catering!!
What was it like to meet JT?!
Amazing. Very informal. He's super nice! I thought I was going to be crazy nervous, but I held it together.
What's one random thing you saw at the concert that made you smile?
Justin asked if I was okay from the stage.
Funniest moment at the concert?
A little boy gave Justin a bow tie.
Favorite JT song?
"What Goes Around Comes Around"
Favorite JT song to dance/sing to?
"SexyBack"
Why is music important to you?
It's an outlet that lets me relax and be happy. It's a huge stress reliever.
If you could play any instrument what would you play?
Guitar
Number one take-away from this whole experience?
It's a ton of work making sure this show goes off without a hitch!
Twitter: @samlefaye